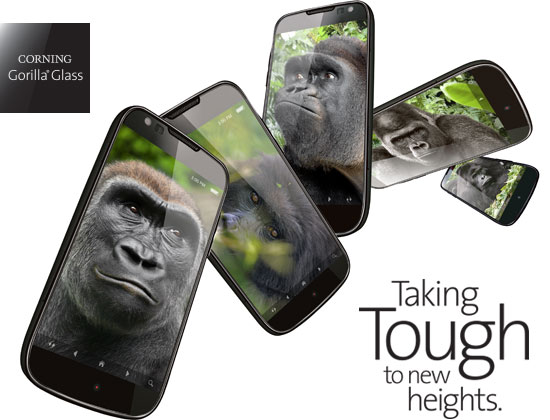 The iPhone X and Samsung Galaxy S8 look very fragile thanks to their glass fronts and backs, but their durability might surprise you, and that's thanks to Gorilla Glass 5.
They and a number of other recent phones such as the
Samsung Galaxy Note 8
, LG G6,
OnePlus 5T
and HTC U11, use it on their screens and in some cases - such as with the iPhone X – also their backs.
But what's so good about it? Well, despite being just 0.4mm thick compared to the 1.4mm in the original version of Gorilla Glass, it can survive drops of 1.6 meters onto hard, rough surfaces 80% of the time.
Gorilla Glass isn't the only protective glass used by phones. There are rival makes such as Dragontrail by AGC, but supposedly Gorilla Glass 5 is up to 4x tougher than rivals. And it's not just tough, it also offers plenty of optical clarity and touch sensitivity, so using your phone shouldn't feel any different than if Gorilla Glass hadn't been included.
So lets take a look at the Corning Gorilla Glass 5 which protects majority of the smartphones today.
The origins of Gorilla Glass
Gorilla Glass is impressive stuff, but it's been a long time in the making, in fact, Corning the company behind it has been experimenting with toughened glass since 1960, but since the birth of smartphones it's really taken off, and improved at a rapid rate.
It is made by pouring molten glass into a pointy-bottomed trough, where it's allowed to overflow and converge at the point, before dripping downwards. The resulting glass doesn't need polishing, which is key, as polishing glass can weaken it.
But the glass also then gets soaked in molten alkaline potassium salt, which causes it to compress and become more solid.
How tough is it ?
Although Gorilla Glass 5 is designed to resist scratches and cracks, it's still glass, and modern flagships are still fragile, especially the iPhone X, which according to SquareTrade is "the most breakable, highest-priced, most expensive to repair iPhone, ever." take a look at the video below,


Other phones fare better, but often not by much and generally the more glass and the less bezel your phone has the more fragile it's likely to be which also tends to mean the more expensive it is the more fragile it will be.

That's not ideal, and while the situation will continue to improve as we get new versions of Gorilla Glass (not to mention tougher alternatives like sapphire glass and diamond glass) we're probably years away from a truly drop-proof phone, other than slightly rugged ones like the Moto Z2 Force, and some rugged smartphones.

Unless you're investing in one of them then for now we'd strongly advise a case for your phone, even if it uses Gorilla Glass 5, and especially if it's expensive, which if it uses Gorilla Glass 5 it probably is.